Standard Home Inspection
Click in the picture below to find detailed Standards of Practice from
Perfect Home Inspection LLC .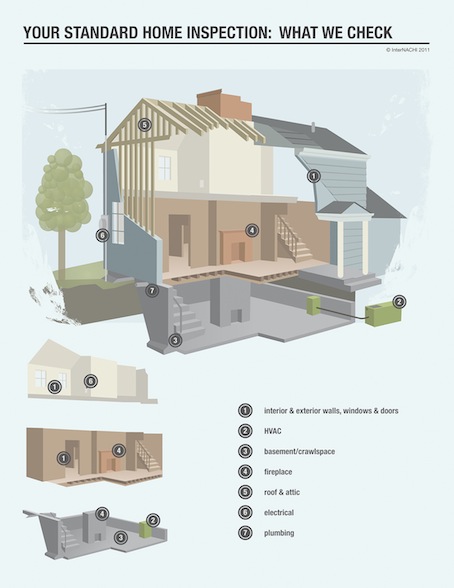 Mold Inspection
Mold is Everywhere
Mold spores are ubiquitous; they are found both indoors and outdoors. Mold spores cannot be eliminated from indoor environments. Some mold spores will be found floating through the air and on settled dust; however, they will not grow if moisture is not present.
Why Be Concerned?
Mold is not usually a problem indoors—unless mold spores land on a wet or damp spot and begin growing.  As molds grow, they digest whatever they are growing on. Unchecked mold growth can damage buildings and furnishings; molds can rot wood, damage drywall, and eventually cause structural damage to buildings.  Mold can cause cosmetic damage, such as stains, to furnishings. The potential human health effects of mold are also a concern. It is important, therefore, to prevent mold from growing indoors.
Discovering fungi in the indoor environment raises three major concerns:
1)    the potential health effects of exposure to fungi and their byproducts;


2)    the effects of fungal contamination on the structural integrity of a building; and


3)    the negative aesthetic effects fungi can produce both visually and on the human olfactory system.


Although the issue of whether exposure to indoor fungi causes adverse health effects is controversial, there is no doubt that a seriously mold-contaminated building can suffer structural damage, and that a foul-smelling, fungus-filled building is aesthetically unpleasing.  Controversies about health effects aside, the latter two reasons are sufficient to merit a Complete Mold Inspection and remediation when an environment is found to have fungal contamination.  


People who have concerns about structural damage or the aesthetic effects of indoor fungi should seek the services of a certified mold inspector.  People who have concerns about health effects of mold exposure should seek the advice of a healthcare professional.
Radon Inspection
Radon is a cancer-causing, radioactive gas.
You can't see radon. And you can't smell it or taste it. But it may be a problem in your home.
Radon is estimated to cause many thousands of deaths each year. That's because when you breathe air containing radon, you can get lung cancer. In fact, the Surgeon General has warned that radon is the second leading cause of lung cancer in the United States today. Only smoking causes more lung cancer deaths. If you smoke and your home has high radon levels, your risk of lung cancer is especially high.
How Does Radon Get Into Your Home?
Any home may have a radon problem
Radon is a radioactive gas. It comes from the natural decay of uranium that is found in nearly all soils. It typically moves up through the ground to the air above and into your home through cracks and other holes in the foundation. Your home traps radon inside, where it can build up. Any home may have a radon problem. This means new and old homes, well-sealed and drafty homes, and homes with or without basements.
Radon from soil gas is the main cause of radon problems. Sometimes radon enters the home through well water. In a small number of homes, the building materials can give off radon, too. However, building materials rarely cause radon problems by themselves.
RADON GETS IN THROUGH:
1. Cracks in solid floors

2. Construction joints

3. Cracks in walls

4. Gaps in suspended floors

5. Gaps around service pipes

6. Cavities inside walls

7.  The water supply